Do the 2 to 1 Nap Transition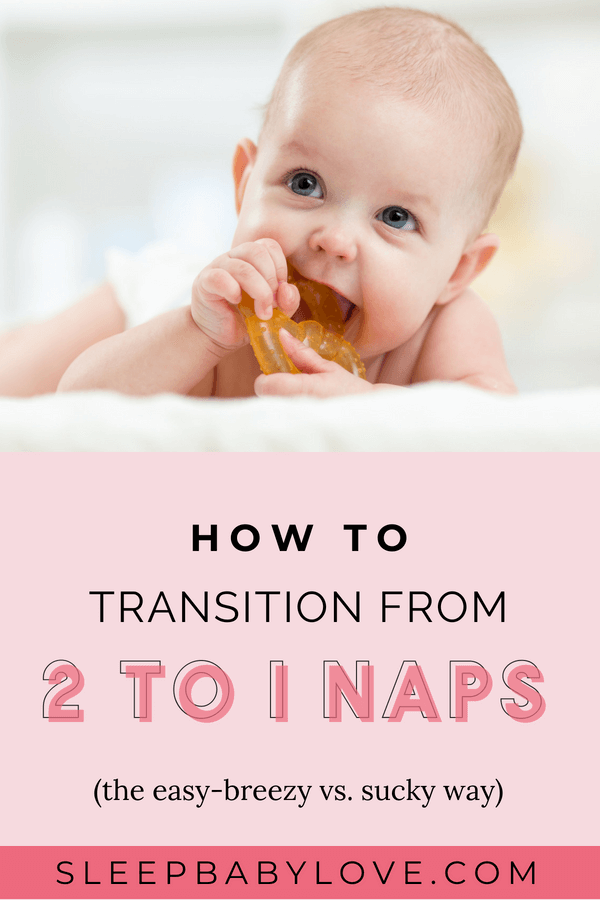 Oh the joys of the 2 to 1 nap transition!  For some babies nap transitions are a breeze, for others it's a little rocky. 
Well, we're in the process of going through it with my 14 month old daughter, Mia (today is her 14th month birthday – HAPPY BIRTHDAY!) 
So far our experience with the 2-1 nap transition hasn't been the easy-breezy type.  It looks like it's a little on the rockier side.  But with everything else sleep-related, we will get through it! Plus, I'll be able to share our success with you. 
Signs showing that your child is going through the 2-1 nap transition:
Refused morning or afternoon nap (I always recommend keeping baby in the crib between 1 and 1.5 hours to give plenty of opportunity to take that nap)
Timing of the naps change significantly pushing the bedtime later and affecting night sleep
Earlier wake-up when your child otherwise is on a good sleep schedule and is well-rested.
Shortening of naps
When to Transition to 1 nap:
Just because you are having any of the above signs does not mean that your child is ready to take the leap to 1 nap.
Trust me…. hold off on the actual transition for as long as possible because many babies/toddlers can easily become over-tired being stretched on those one-nap days (and being over-tired could result in night wakings and early morning wake-ups – no fun!)
Many babies fully transition to 2 naps between 14-18 months of age –some earlier some later.  Don't rush it!  Wait for solid signs for several weeks versus several days.
How to keep your baby well-rested during a nap transition:
Alternate between 2 nap days and 1 nap days
Try capping naps if you are having difficulty getting two naps. For younger babies you will want to preserve the two nap schedule to ensure restorative and restful naps. Start by capping the nap by 15 minutes to help the second nap start on time.
When in doubt – do an early bedtime.  This is Sleep Baby Love's golden rule of sleep!  Don't be scared of a 5pm bedtime – we had one last night!
What's My Story:
So yesterday our afternoon nap was refused – resulting in a 5pm bedtime!  So the plan is to hold on to two naps for as long as possible.  I can tell you that Mia loves her early nap but we are struggling with the afternoon nap.  It might be several weeks or several months but I since I am always focusing on sleep – I will get through it!
How was your experience with the 2-1 nap transition?  Was it easy or rocky?  Did you dive in or go slow?  We're going the slow route for now!
Update:  This post was written years ago, but we got through the transition with flying colors!  By 15 months – we were transitioned just fine with a 2+ hour nap.  Phew – dodged a bullet!