4 Tips To Survive If Your Child is Going Through A Sleep Regression, Specifically #3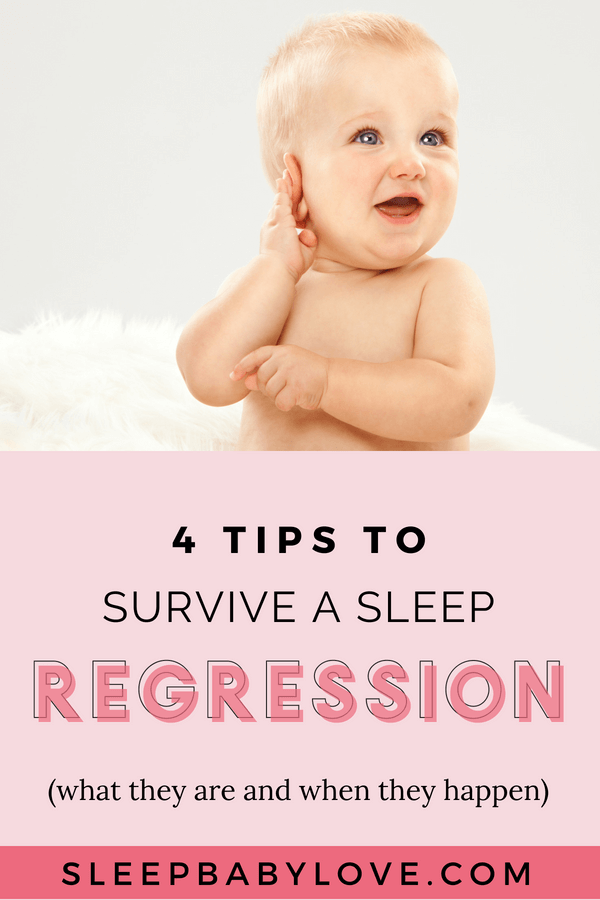 I've been getting lots of questions about sleep regressions this week – is something in the water?
Yes, regressions happen – sometimes we find that if your child is going through a sleep regression (or a period of sucky sleep) it could be due to developmental changes, or sometimes it's because of poor sleep habits rearing its ugly head!
The first of many sleep regressions is a huge topic the the, oh so fun, 4 Month Sleep Regression.  The sleep regression that happens around 4 months is really due to the change in your baby's development (more importantly how aware your baby becomes coupled with it taking longer to get into a deep sleep).  Right around 4 months is one of the first opportunities to have your perfect sleeping baby take a nose dive.  This is also the time when many parents get their first taste into having to think about, try to fix or survive with poor sleep.
Oh, but don't think it ends there…. right after 4 months, we may see different regressions and set-backs in sleep.  Regressions can happen due to a variety of reasons such as separation awareness, developmental changes (ie: crawling, walking, and even language explosions).  Here's a quick recap of the other sleep regressions that occur throughout your baby's life:
8-9 Month Sleep Regression:  Motor skills like crawling and standing in the crib (it doesn't help if your baby hasn't figured out how to get back to laying down)
12 Month Sleep Regression:  Motor skills (like walking) occur, separation anxiety starts as well
18 Month Sleep Regression: Welcome to the independent toddler months… this is the first of many blips that happen since your child can stand up to independence.  Also, a language explosion is full force.
24 Months:  Your child is getting a master of the toddlerism of testing the limits …. and sleeping is one thing that they can control.
Of course there are always going to be other factors that will affect sleep around your baby's life. Many exhausted and overwhelmed parents will cling on to any excuse reasonable idea that they can come up with.  The easiest excuse is teething… since we know that teething can reasonably be explained in case sleep starts to deteriorate.  Teething can occur for 2 years so I rarely think that is the reason for a sleep regression, but isn't typically the reason that sleep would be poor for a long period of time.
So when in doubt, blame teeth!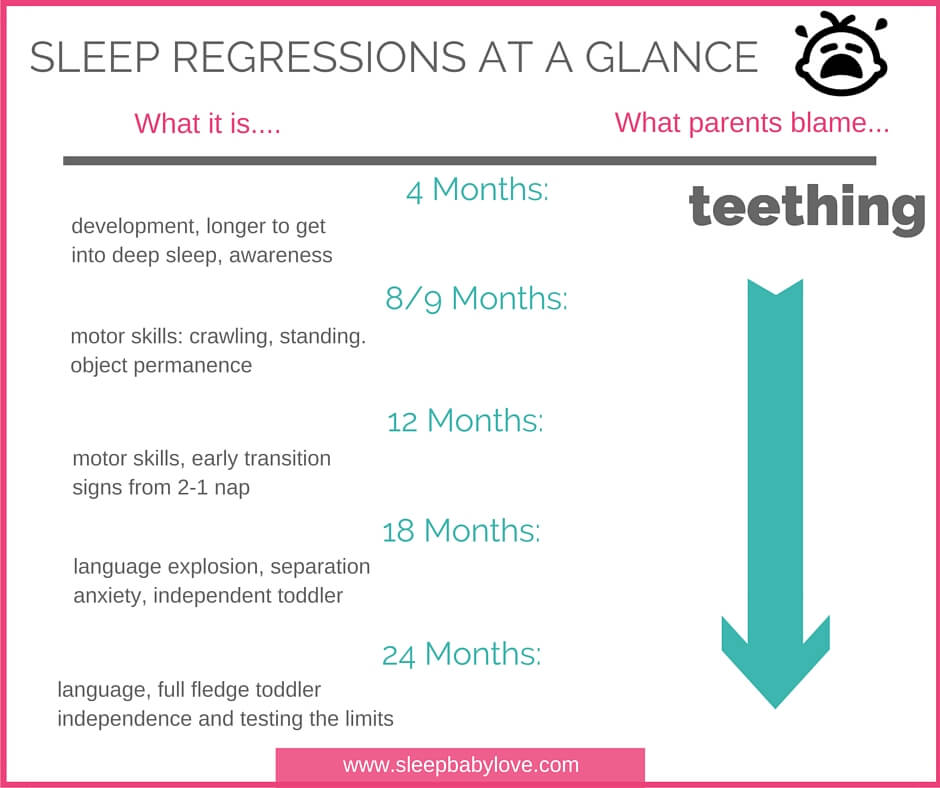 These regressions are bumps in the road – and that's what we should think of them as – but make sure your regression doesn't derail your great sleep train!
Since regressions are going to happen – here are a few ideas for when they do occur!!
Tip #1:  What Has Changed?
Try and figure out what's going on – become a detective – what has changed? How long has it been going on? Are nights more difficult, have night wakes increased?  Take a look to make sure they are still getting appropriate overall sleep.
Tip #2:  Is Your Child Well Rested?
Keep your child as well rested as possible- even if your child is protesting naps or bedtime, it does not mean that your child is not tired, or does not to be sleeping. Keep your parental control – since you know what is the best interest of your child.
Tip #3:  You Know Your Child Best:
It's OK to comfort your child if they wake up screaming their head off in the middle of the night, which normally never happens.  Yes, teething gets in the way of great sleep, but still isn't necessarily the reason to stop focusing on independent sleep habits.
Tip #4:  Regressions Only Last So Long
After a week or two, if things haven't gotten better, it's probably not a regression at all but a sleep association.  Take stock of everything that is getting in the way of your child's sleep.  Does your child need to be rocked, or do they have the independent skills to fall asleep by themselves.  Once you know that you have to teach the skills, pick a plan and be consistent with it.
Conclusion:
Sleep regressions do occur. They are real and there are many reasonable  reasons if your child is going through a sleep regression.  It's just a matter of figuring out what's going on with your child and how you can survive or take action to get your baby's sleep back on track.
Do you agree that something is in the water this past couple weeks? How is your child sleeping? Comment below.