Sleep Training Frequently Asked Questions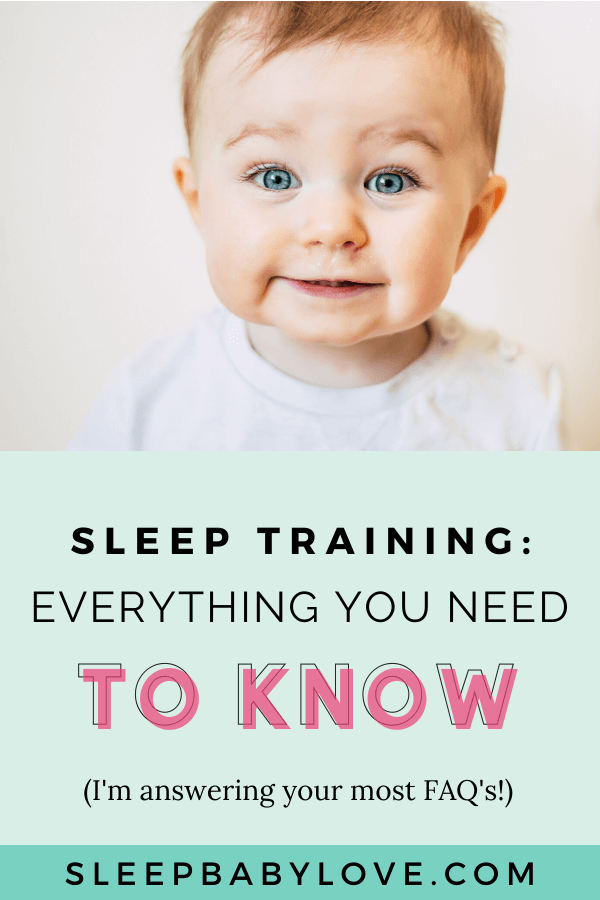 You've heard about sleep training, you've read about sleep training now you want to know more…
Here are the most common frequently asked questions about sleep training.
Comment below and ask me a question and I'll keep updating the list!
What is sleep training?
Sleep Training is the process to teach your baby independent skills resulting in better sleep habits.  I wrote an epic article that will help you learn more and everything about sleep training your baby.  
What age can you start sleep training your baby?
It's a good idea to discuss recommendations with your baby's doctor to assess readiness, but I recommend anytime after your baby's adjusted age of four months.
Is "Crying it Out" and Sleep Training the same?
Crying it out (CIO) gives sleep training a bad reputation. Sleep training is the process of teaching your baby independent skills but crying it out refers to a soothing method that parents may choose within the larger process. There are other options that involve reassuring your child, checking on your child, and fading your presence.
What soothing method should I pick?
I am focused on you as the parent and what you can stick to. This is why there are many sleep training methods so you can decide which will work best for your family. I break down the methods for you so you can understand which method you can stick with.
Can I focus on nights and naps at the same time?
When clients hire me for a personalized sleep consultation, we usually focus on BOTH nights and naps to see the quickest results. But, you can sleep training separately for nights and naps. You would focus on bedtime first and then fold in the naps within 3 days to several weeks.
Do I have to get rid of my baby's feed during sleep training?
Depending on your baby's age, it's very age-appropriate to have a feed overnight.
When will my baby sleep through the night? 
Babies are capable to sleep through the night as early as 3-4 months, but you as a parent will decide your baby's readiness (ask your pediatrician, too!).  When sleep training, I always recommend having age-appropriate feeding times.  4-6 Months, maximum of 1-2 feeds per night, 6-8 months, 1-2 feeds.  After 8 months of age, I recommend eliminating all feeds to help you sleep through the night!